No two catered events are going to like. And it is going to be that way. The guest preferences and menu combination vary from event-to-event. When you think of a wedding, parties, conventions or fundraisers with wait-staff walking around for serving hors-d'oeuvres is the common sight, however, for corporate and business catering the scenario completely alters. Hence it is better to know what are the pros and cons of catering in-office party.
Like any other challenge at work, ordering the right office catering can be an achievement that wins you praise and a feeling of satisfaction. When it comes to boardroom catering, you may want something fancier than sandwiches. You can also go for lunch combos with many of which include hot dishes to fill your appetite.
For any in-office party or event requires for the dishes to be not only mouthwatering but also unique and with options. Cater ninja is in association with reputable restaurants in and around your city gives an option to try on the delicacies right in your office.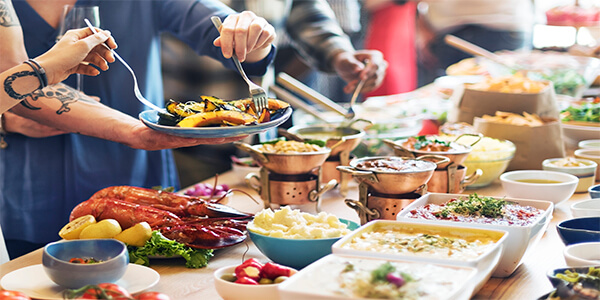 Catering food for in-office is quick turning into an everyday valuable strategy to help employee confidence in working environments. The fervor of expecting culinary surprises or familiar choices at work can truly make employees anticipate available time. Organizations that emphasis on well being & health of company environment can even give healthy staff lunches.
On the other hand, employees spend most of the portion of their lives in the workplace condition, hence employees need time and assets to remain healthy and active and with such in-office events, the corporate catering comes into the picture.
In short, corporate catering is not just for spicing up workplace events, it could also be a major incentive for the employees.
(Visited 150 times, 1 visits today)