Planning & arranging an occasion can be at some point chaotic task. That's the reason why we bring an assortment of food menu for any event and occasion necessities. When you are considering throwing an in-house party, the buffet is always a better option.
The correct buffet food menu is fundamental for any event. From taste to dietary requirement, there is a ton to consider while picking a menu most appropriate for every one of your visitors. For taste and inclinations, you explore different options regarding distinctive flavors. Buffet caterers provide regular offers and different spread of cooking from all around the globe. Be it universal, Thai, Indian, Chinese, BBQ thus some more, the choice is endless.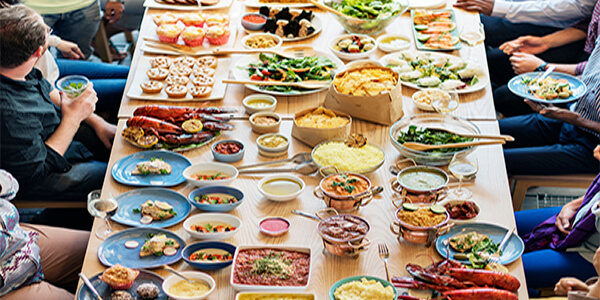 The menu lists often state the number of people it serves, which makes things easy. However, if the menu states only pieces or sizes, do a quick Google search to see how many people that may feed. A tip is to check reviews of caterers to find out if their portions run on the light or on the heavy side to ensure ample orders are made.
Have a uniquely themed party? We offer customization for your buffet table presentation is available upon special request. Other customizations that are available upon special request include personalized names of dishes.
We work with you on picking the menu that accommodates your taste and style. We pursue standard business safe guidelines and work with you to make any occasion a joy. Our catering service will most likely match your occasions like a family get-together, anniversary celebration food, baby shower catering, birthday party catering at a sensible cost. On the off chance that you don't perceive what you are searching for in our cooking menu contact with us about breathing life into your party.
(Visited 164 times, 1 visits today)