This Eid savors the delightful dessert with a complete family meal fully catered from your favorite restaurant in town by CaterNinja.
Sheer Kurma
Sheer Khurma is the rich Mughlai dessert, though the name came from Persian heritage where sheer is the term for milk and khurma or Khorma is a synonym for dates. Thus the blend of these ingredients gives the name as Sheer Khurma. Prepared especially on the day of Edi-ul-Fitr, the sweet dish is served to the whole family and friends who come home to greet them for the festival.
The traditional recipe of sheer khurma is made with vermicelli sauteed in ghee and dry fruits. It is a traditional Muslim festive breakfast and a dessert for celebration. The rich dessert is fulfilling dish after the morning prayer of Eid.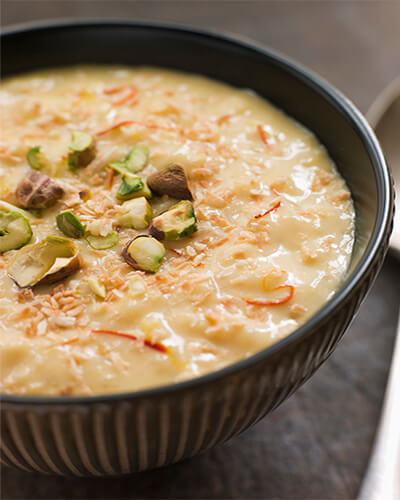 The preparations of this festival begin days before the sighting of the crescent moon. The significance is also about delicious food to savor especially delectable non-vegetarian dishes. Here are some traditional dishes you need to try this festive season.
Mutton Biryani
There are so many recopies of Biryani out there, but this one surely melts the heart. The dum cooked mutton biryani is prepared with passion and made with the choicest basmati rice, fried onions, marinated mutton and more.
Haleem
The meaty stew made with broken wheat is one of the most sought after dish for family dinners. The mouth-watering dish is a regular menu available around the year at a few city hotels it's only during the fasting month that it is in great demand.
Kebabs
The varieties of Indian kebabs are served as starters based on grilled meat have a distinct set of ingredients including an exclusive combination of spices and unique cooking procedures. The popular kebabs are shish kebab, Shammi kebab, doner kebab, Tunde ke kebab, and tikka kebab.
(Visited 141 times, 1 visits today)