Summer is here and so is the searing heat of the sun. Even simply doing nothing causes exhaustion these days. The mercury doesn't show any sign of relenting and what comes to our rescue is the king of fruits. Mango is the most loved fruit around the world and especially in India; you will find many recipes from its raw to ripe version. Raw mango cooler is one among them!
The preparation process of raw mango cooler is different in various parts of India, and so does its name. Let us check out the two primary ways that turn the flavor of raw mango cooler aka aam Panna upside down.
Boiled method- raw mango mint cooler
Take some raw mangoes and put them in a pressure cooker.
Add enough water to cover them and cook till the skin is soft. (One whistle on high and 2 on low). Remove the mangoes from the water and let it cool down.
Peel the skin and mash the mangoes to take out all the pulp.
Add 5-6 cups of water in the pulp
Grind the mint leaves with little water to make a paste.
Add ground mint, sugar, cumin powder and salt to the raw mango pulp mixed with water.
Mix well to dissolve the sugar. Adjust sugar and salt according to your taste. Add more water if required. Chill it for a few hours before serving.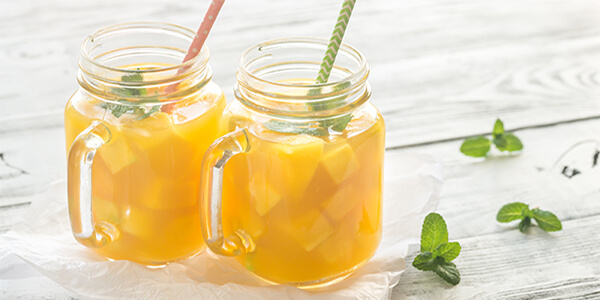 BBQ method- raw mango mint cooler
This is a BBQ variation of India's favorite summer drink "Aam Panna". Normally Aam Panna is made by boiling the raw mangoes in water. That is the traditional way of preparing raw mango cooler drink.
Generally, for making this drink, prefer using Totapuri mango as it is less sour than other mangoes. Hence it requires less sugar for more sugar-conscious people.
Take raw mangoes and roast them on a gas stove on low flame. Occasionally turn to roast evenly. The best way to know that the mangoes are cooked till inside is roasting till the skin turns black.
Take the roasted mango off the flame and let it cool off at room temperature.
Remove the skin carefully and cut the mango into pieces.
Take the mango pieces into the juicer; add in mint leaves, a pinch of salt, pepper powder, roasted cumin powder, and sugar into it.
Add water and blitz until it becomes smooth. You can also add crushed ice and blitz again.
Pour the Aam Panna in serving glasses with few ice cubes. The drink tastes better when served chilled.
Thinking to serve this as welcome drink for your large event in summer? Customize it with cater ninja catering service.
(Visited 150 times, 1 visits today)