The blooming IT setup in tech-hub Bangalore is rising day by day. Due to corporate IT rising here, there are also events and functions bound to be planned. Owing to this reason, corporate catering in Bangalore is bound to be in demand.
Business parties are a great way to cheer your team and for casual interaction between your team. It does not matter if you are a great foodie at heart, we all look forward to the different cuisines and different recopies at such gatherings.
The need of the hour is an excellent catering service to satisfy your specific requirement. Not only the caterers should provide you the food, but also be adept in handling the particular necessities of an event.
Cater Ninja presents some of the cool restaurant and eateries in the Silicon Valley of India-Bangalore.
Smoked House Deli
The iconic and lively restaurant in Bangalore hosts lots of multi-cuisine menus. For your any corporate event, you can select from our happy menu options.
Ebony @ Home Bangalore
The rooftop restaurant at MG Road Karnataka serves the best buffet in town. Here you get to choose from a complete Indian and Continental buffet menu. We also provide a special Pan Asian buffet with exclusive Thai flavors.
The live BBQ grill and equally delicious spread add a smoky flavor to any event. You can choose from our wide range of buffets- multi-cuisine, live BBQ- classic, veggies, premium BBQ, and the elite package.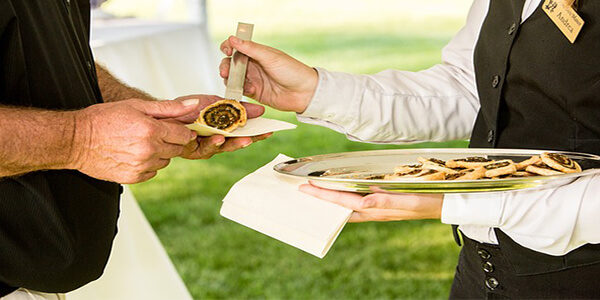 BYG Brewsky
The contemporarily styled microbrewery with a menu of Asian light bites at BYG offers a delight to everyone. The Italian and North Indian cuisine offers an amazing palate of Indian and global fusion. Whether your event is big or small, you can cater to food by cater ninja from BYG Brewsky.
Punjab Grill
For enjoying a typical amalgam of the royal tastes and the Sikh flavors right here in Bangalore, Punjab Grill is the right place. The restaurant relies on the use of four styles of cooking -Tandoor, Sighri, Tawa, and Kadhai. With cater ninja as you catering partner, order food from Punjab Grill for enjoying the flavors of North.
Hungry for more, contact cater ninja team for catering food from your favorite restaurant in Bangalore.
(Visited 115 times, 1 visits today)