What do you eat every morning? Is it Medu Vada, vada pav, Puri Bhaji, Toast butter or Misal Pav,?you are probably eating one these items every day as your breakfast meal. It's good to eat once in a while, so you don't miss your favorite food. But, is it good to eat every day? No, it isn't. These foods are unhealthy for breakfast.
Mornings are the start of a day and eating unhealthy food can ruin your day because these foods have high refined carbs and low fiber. This will fasten your blood sugar levels and that causes rebound hunger and that carves you to eat more food in your next meal and you end up gaining weight.
We'll walk through some healthy breakfast ideas. Ready? Let's Dive In
#1 Vegetable Rawa Upma
Rawa is also called Suji in Hindi and Cream of wheat in English. It is one of the healthiest breakfast. It contains loads of fiber and vegetables. You can serve upma with coconut chutney or pickles.
#2 Rawa Dosa
It's a popular south Indian dish. unlike other dosa it takes fermentation and grinding, rawa dosa is easily done. You can also add 'Masala' that is cooked potato with some spices and herbs. Serve dosa with Green chutney and sambar.
#3 Smoothies
Smoothies are the best start for mornings. They are high in protein and have loads of fibers and carbs. Smoothies are filling. One the simplest recipes for a smoothie is add frozen pineapple, Kiwi, apple or green apple, flax seeds, and yogurt blend it till smooth and you are ready to rock your day.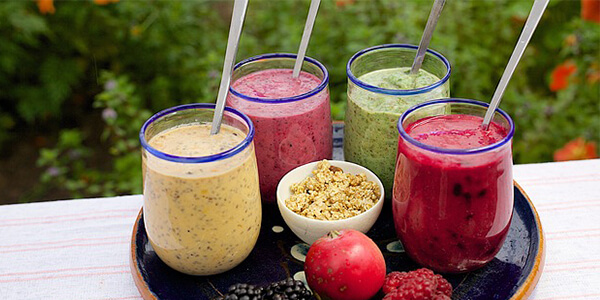 #4 Aloo Paratha
Aloo Paratha is a highly honorable dish in North India. It has healthy fats. You can also make different healthy parathas like Methi(Fenugreek) Paratha, Gobi (Cauliflower) Paratha or Paneer (Cottage cheese) Paratha.
#5 Uttappam
The Indian version of pancakes and the most loved dish from the state of Karnataka, uttapam taste good when topped with finely chopped veggies. And the best part is it is healthy too!
 #6 Sabudana Khichdi
A typical Maharashtrian cuisine which is super delicious and yet healthy. The tapioca pearls or sago or sabudana is a protein-rich dish and taste best with a chilled cup of yogurt.
Before you start eating keep one thing in mind healthy eating is not a goal, it's a Lifestyle and you know what the best part is? Next time when you eat breakfast, it would be a healthy one.
(Visited 130 times, 1 visits today)