Food and Dining Catering Service:

Go beyond Pizza for every occasion! Order multi cuisine and mouth watering dishes right from your favorite restaurants in you city. We bring multi-ethnic food at one place where we make sure a perfect day with delicious food without breaking the bank. From classic to contemporary, cater ninja menu features every dinning style to appeal your event.
Catering for Corporate Event, Business Meetings or Office Party:

Catering a company event can be stressful and overwhelming. Hence, we bring ordering a delicious meal and superior service right at your finger tips. Serve your guests with delightful menus that's happy, healthy and easily accessible. We serve large beautiful platters of shared food that not only look good, but taste incredible! We are partnered with more than 500+ restaurants near you area to give you freshest locally sourced ingredients.
Any holiday party or get together party is the one most sought after and lets your employees loose with colleagues. We want you to satisfy your work team and host a memorable event for them – let us help you throw the ultimate corporate holiday party with the best food catering tips below!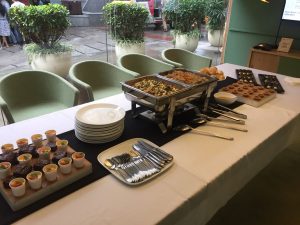 Choosing the right menu for the event:

Holiday parties are usually also appreciation events so employees expect to be fed. The food is typically one of the highlights of the event, so this can seem like a big responsibility. There are a number of tips and tricks that our event designers can discuss with you to help you stay in budget while still providing an excellent meal. Don't worry, that's why we're here to help!
So while hosting a holiday corporate party you can also include other elements like group activities and speeches in between. This way you can make more time for menu options and like whether to serve plated meals or family style and the time when food will be served.
Feed your team's productivity with great food from the city's favorite restaurants and caterers with CaterNinja!
(Visited 143 times, 1 visits today)